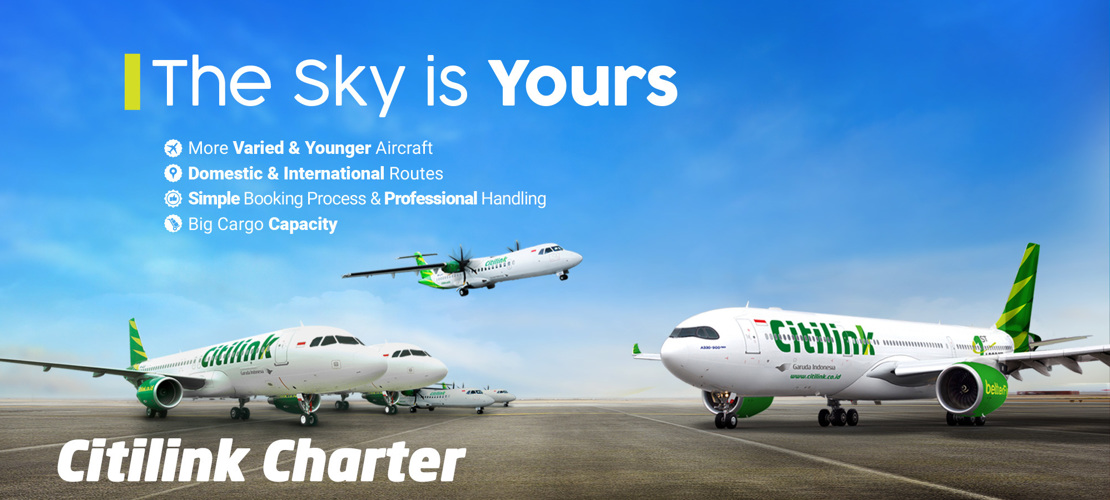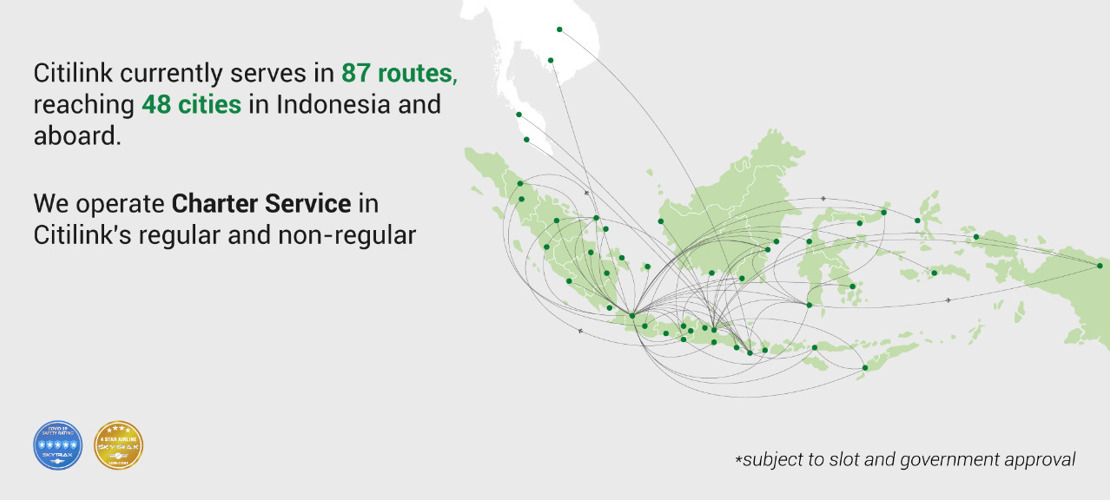 Responding to the challenges and needs of today's dynamic consumers. Citilink as an airline with a Low Cost Carrier (LCC) business concept is here to provide non-scheduled flight services by applying the charter concept to meet your needs. Citilink operates charter services with regular existing and non-regular routes according to your needs. Currently Citilink serves more than 87 flight routes that reach 48 cities in Indonesia and abroad. Citilink operates various types of aircraft currently owned, such as Airbus 330-900 NEO, Airbus 320-200 CEO & NEO, ATR72-600 and Boeing 737-500 Freighter with an average aircraft age of 7 years. Citilink Indonesia is here to offer the best charter service.
Aircraft varies and in excellent condition (average age of the aircraft is 7 years)
The flight includes food and drink which can be ordered through the menu provided.
Easy Order Process.
Handled by a team of competent sales representatives who will provide the information needed by the charterer.
Carrying capacity for large cargo needs.
Departure & Delivery with time adjustment required by charterers.
Citilink has been awarded 4 (four) stars as Low-Cost Airline and 5 (five) stars as Airline with the Skytrax version of Health Protocol Handling.
Citilink Indonesia charter will provide the best service to meet your travel and goods delivery needs. Flight times that can be arranged as well as a fleet of aircraft that can be selected according to your needs to be able to take you or deliver your cargo.
Passenger Charter

Passenger charter service is a favorite service that we currently serve as a group with various types of aircraft according to charter needs. Fully support the needs of both corporate and individual charterers.

Cargo Charter

Cargo charter services are goods delivery services with various types and types of cargoes that are cargoed according to the charter's needs. For larger cargo needs, we serve the needs of cabin compartment cargo that can be maximized according to the charter's needs. Citilink Indonesia's cargo charter service also serves the delivery of Dangerous Goods, Perishable Food, Live Animals, Pharmacy Goods, Valuable Goods, Human Remain, General Cargo, Freighter, and Marine Cargo Insurance. For more information about the types of cargo that can be sent, please visit https://www.citilink.co.id/citilink-cargo/ (the URL link may be simplified to the words "Citilink Cargo Website")

Special Charter/VIP/VVIP

Charter services are provided specifically for individuals as well as the needs of corporations and agencies, with the aim of providing privacy and exclusive services.
Citilink Indonesia since 2012 has rejuvenated its aircraft fleet which is used for regular and non-regular (charter) flights. Currently, the total fleet that Citilink has is 78 aircraft.
Various types of aircraft that can be used according to your needs. For short and long distance routes. For details on aircraft types you can see the image information below.
Individual
Identity Card (KTP)
Taxpayer Identification Number (NPWP)
Company
Deed of company
Trading Business License (SIUP)
Transportation Management Service Business License (SIUPJT)
Company Registration Certificate (TDP)
Taxpayer Identification Number (NPWP
Company profile
For reservations or further information, you can send an email to charter@citilink.co.id, then our PIC will contact you.