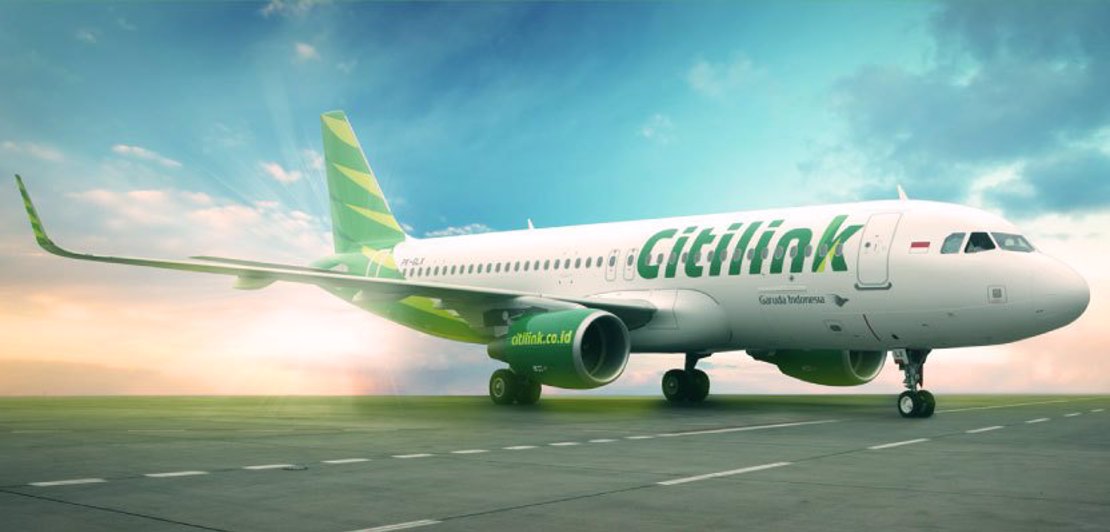 Citilink Indonesia has become the fastest growing airline in Indonesia since 2011 at the time when it took the first Airbus A320 aircraft and accelerated growth as part of Garuda Group's effort to compete aggressively on the budget traveler segment.
PT Citilink Indonesia is a subsidiary of Garuda Indonesia which based on the Natakusumah Notarial Deed No. 01 dated January 6th, 2009 in Sidoarjo, East Java. The deed of establishment was approved by Ministry of Law and Human Rights (Kemenkunham) under approval letter No. AHU-14555.AH.01.01 year 2009 dated April 22nd, 2009. Citilink Indonesia's shareholder at the time of its establishment was 67% PT Garuda Indonesia (Persero) Tbk. ("Garuda") and 33% PT Aerowisata ("Aerowisata").
Since May 2011, Citilink Indonesia's flight was managed by Garuda Indonesia's Strategic Business Unit (SBU) which operated under Garuda's AOC and using Garuda flight number.
In accordance to the Deed No. 23 dated January 13th, 2012 about changes in capital deposits and Deed No. 91 dated August 10th, 2012 about additional capital in form of airplanes, therefore Citilink Indonesia's shareholders are Garuda (94.3% ) and Aerowisata (5.7%).
With the provision of flight license SIUAU/NB-027 dated January 27th, 2012 and flight certificate AOC 121-046 dated June 22nd, 2012, Citilink Indonesia began to operates independently since July 30th, 2012 with IATA flight code "QG", ICAO designation "CTV" and call sign "Supergreen".
Citilink is an airline under the auspices of the Garuda Indonesia Group, serving flights with the system from city to city.
Based in Jakarta and Surabaya, in 2020 Citilink has served more than 100 routes to 47 destinations including Jakarta, Surabaya, Batam, Bandung, Banjarmasin, Denpasar, Balikpapan, Yogyakarta, Medan, Palembang, Padang, Makassar, Pekanbaru, Lombok, Semarang, Malang, Kupang, Tanjung Pandan, Solo, Palangkaraya, Pontianak, Manado, Aceh, Jayapura, Gorontalo, Samarinda as well as international routes to Timor Leste, Malaysia, China, Australia and Jeddah.
As proof of its success in its commitment to improving customer service, Citilink has won several awards such as the Top IT Implementation Airlines Sector award from the Ministry of Communication and Information Technology in 2017, the Transportation Safety Management Award from the Ministry of Transportation in 2017, a four-star accreditation from an industry rating agency in world aviation, SKYTRAX for two consecutive years from 2018, the TripAdvisor Traveler's Choice Award that has been obtained for three consecutive years from 2018, won the 4-Star Low-Cost Airline predicate Airline Passenger Experience (APEX) version for the third time, Skytrax COVID-19 Airline Safety Rating in 2021, as well as various other prestigious awards.
Citilink always implements strict health protocols in all of its flight operations, from pre, in, to post-flight by referring to the health protocol stipulated by the government to ensure all flights run optimally while still prioritizing health and safety for all customers.
The Board of Commissioners of PT Citilink Indonesia
| | |
| --- | --- |
| President Commissioner | : Prasetio |
| Commissioner | : Zainal Rahman |
| Commissioner | : Adita Irawati |
| Commissioner | : Bambang Gutomo |
Board of Directors of PT Citilink Indonesia
| | |
| --- | --- |
| President Director | : Dewa Kadek Rai |
| Director of Commercial and Cargo | : Ichwan F. Agus |
| Director of Human Capital | : Arief Adhi Sanjaya |
| Director of Operations | : Ferdinand Sofyal |
| Director of Technical | : Jaka Ari Triyoga |
| Ditrector of Finance and Risk Management | : Pandu Fajar Wisudha |
Vision and Mission
Vision
World class LCC with sustained profitability, most admired employer in Indonesia.
Mission
Improving the quality of people's life by providing hassle-free air transportation with high reliability and international safety standard through the touch of Indonesian hospitality.
History of Citilink
Since 2001, Citilink Indonesia has operated as a low-cost airline in the form of a Garuda Indonesia business division using only a few aircraft, limited bandwidth management and several routes with a focus on the development of the Garuda Indonesia brand, which is a premium airline. For more information and highlights of Citilink indonesia Click
Here
.
Fleet & Seating Plan
Based in Jakarta and Surabaya, Citilink has served more than 330 daily flight frequencies with 97 routes to 49 cities, for more information Click
Here
.
Awards & Certification
Citilink places customer satisfaction above everything else. As proof of its success in its commitment to improving service to customers, Citilink has won several awards and certifications that can be seen
Here
.
For those of you who have not joined as a LinkMiles member,
register now and don't miss our special offers.
Visit: member.citilink.co.id