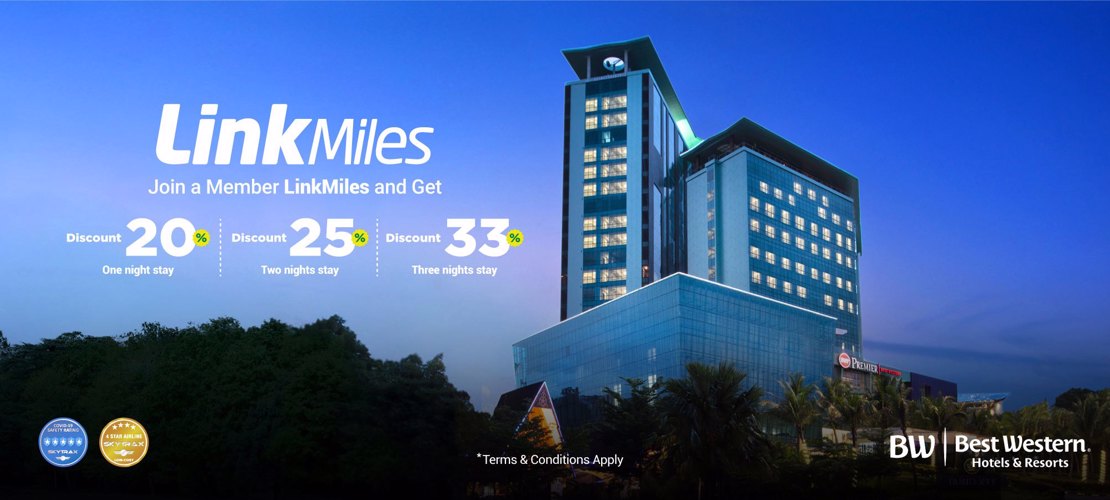 | | |
| --- | --- |
| Discount | Product |
| 20% | One night stay |
| 25% | Two night stay |
| 33% | Three night stay |
TERMS & CONDITIONS:
Discount is only valid for LinkMiles Members.
Discount Terms as follows:

20% discount from Best Available Rate (BAR) price valid for 1 (one) night stay.
25% discount from Best Available Rate (BAR) price applies to stays of 2 (two) nights.
33% discount from Best Available Rate (BAR) price applies to stays of 3 (three) nights.

BAR price at the hotel includes breakfast.
Discount available to all types of Best Western room depend on room availability.
Booking and stay period starts from March 1, 2023 to March 1, 2024.
Booking room period during peak season such as Eid holidays, Christmas and New Year holidays will be subject to surcharge with the amount depending on the policy of each hotel.
Discount cannot be combined with other promos.
Citilink reserves the right to change the terms and conditions without prior notice.
ORDERING MECHANISM:
Members redeem/exchange discount vouchers on the "Redeem Miles" menu in the member's account via the website: https://member.citilink.co.id or the Citilink apps.
After redemption voucher is successfully by using miles, members will receive a unique from email.
Make a reservation in advance by phone on the number listed at the location of each Best Western hotel.
When making a room reservation, customers are required to present the unique Best Western hotel code from the email, after redeem the voucher.
Make a 50% deposit payment at the time of hotel reservation.
After making a reservation, at the time of check-in, member must show the LinkMiles membership e-card. LinkMiles membership e-card can be seen by members on the Citilink member website https://member.citilink.co.id or Citilink Mobile Apps.
Payment of reservations through the website using a credit card. For offline bookings, payment can be made via debit card, credit card or cash.
Reservations via call can be made through the intended hotel by stating the planned stay period, room type and informing the hotel that the guest uses LinkMiles promo from Citilink Indonesia.
Make the remaining payment.
Done.
City
Address

Jakarta

Best Western Mangga Dua Hotel & Residence

Jl. Mangga Dua Abdad 111 Kec. Sawah Besar, Jakara Pusat 10730

Telepon: +62 21 6122999, Fax: +62 21 62201133

Best Western Senayan Hotel

STC Senayan. Jl. Asia Afrika, Jakarta Pusat 10270

Telepon: +62 21 29037345, Fax: +62 21 29037400

Best Western Plus Kemayoran Hotel

Jl. Benyamin Suab Blok. A5, Kemayoran, Jakarta Pusat 10630

Telepon: +62 21 658538888, Fax: +62 21 65850999

Best Western Premier The Hive

Jl. D.I Panjaitan Kav 3-4, Jakarta Timur 13340

Telepon: +62 21 29821888, Fax: +62 21 29821999

Batam

Best Western Premier Panbil

Jl. Ahmad Yani- Muka Kuning, Batam 29433

Telepon: +62 778371888, Fax: +62 371999

Bandung

Best Western Premier La Grande Hotel

Jl. Merdeka No. 25-29, Bandung 40117

Telepon: +62 2242690555, Fax: +62 2242690550

Surabaya

Best Western Papilio Hotel

Jl. Ahmad Yani 176-178, Surabaya 60235

Telepon: +62 3199043000, Fax: +62 3199043111

Banjarmasin

Best Western Kindai Hotel

Jl. Ahmad Yani Km 4,5 Banjarmasin 70236

Telepon: +62 5116775588, Fax: +62 5116775577

Bali

Best Western Resort Kuta

Jl. Kubu Anyar No. 118, Kuta, Bali 80361

Telepon: +62 361767000, Fax: +62 361767575

Best Western Kuta Villa

Jl. Nyang Nyang Sari No.2, Kuta, Bali 80361

Telepon: +62 361756565, Fax: +62 361766577

Best Western Kamala Jimbaran

Jl. Raya Uluwatu 88X, Jimbaran, Bali 80361

Telepon: +62 361 4463208, Fax: +62 3614463286

Best Western Premier Agung Resort Ubud

Jl. Sriwedari No.99 Ubud, Bali 80571

Telepon: +62 361 2091700, Fax: +62 3612091748

Makassar

Best Western Plus Makassar Beach

Jl. Botolempangan No. 67, Makassar 90113

Telepon: +62 441, Fax: +62 3614463286

Palu

Best Western Plus Coco Palu

Jl. Basuki Rahmat No. 127, Palu 94133

Telepon: +62 451 481500, Fax: +62 451 481222

Manado

Best Western The Lagoon Hotel

Bahu Mall. Jl. Wolter Monginsidi No.1, Manado 95115

Telepon: +62 431 7282 888, Fax: +62 431 7282 788