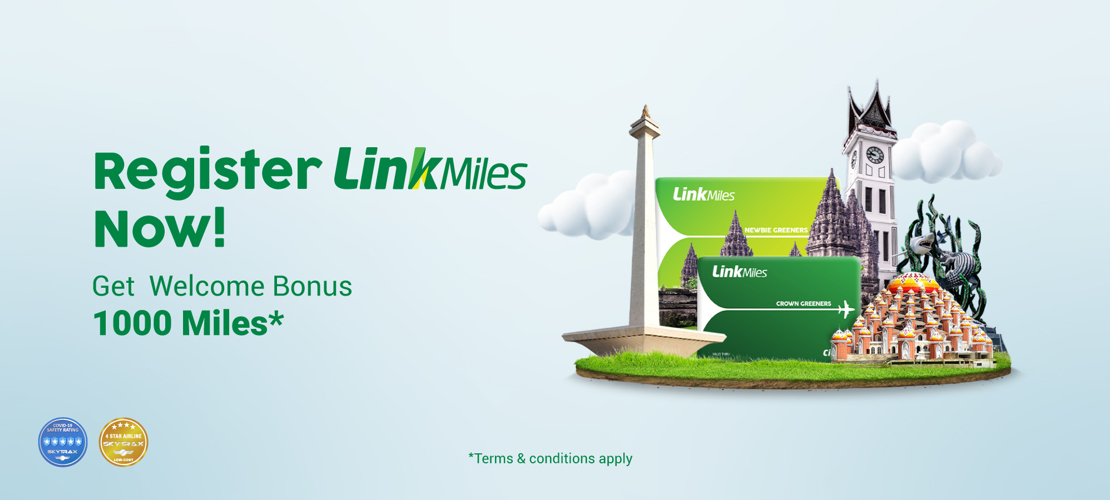 LinkMiles provides various conveniences for Citilinkers who have joined, such as earning mileage when they have traveled, exchanging Miles into tickets. Stay tuned for more conveniences with LinkMiles.

To claim LinkMiles membership Miles can be done via email: linkmiles.claim@citilink.co.id by activating LinkMiles membership first.
What is LinkMiles?
Membership program for Citilinkers.
How to register LinkMiles?
You can register through the Citilink application. You will get a LinkMiles membership number after successfully activating. You can also get a bonus of 1000 miles*!

*200 miles from the first online registration and 800 miles from the first flight activity. Bonus 200 miles is valid for 1 year, Bonus 800 miles is valid for 3 months.
Uses of LinkMiles?
Miles that have been collected can be exchanged for free Citilink flight tickets, ancillary products discount and products from merchant
How do I access LinkMiles?
Through Citilink Application. Download via AppStore / PlayStore.
How to get LinkMiles automatically?
Make sure email address and Membership Name of LinkMiles are the same as the email address and name at the time of reservation, then you will get LinkMiles automatically.
How to Claim Missing Mileage?
Mileage that is not automatically logged into the member's account can be claimed in two ways as follows:
Claim missing mileage can be done through Citilink application. We will process the claim if the LinkMiles member's email address and booking code are appropriate within a minimum period of 2 (two) weeks after submission. Your mileage can be claimed if you make a claim process no later than 6 months after the flight.
Email: linkmiles.claim@citilink.co.id by activating a LinkMiles membership first by attaching:

LinkMiles membership card; and
Flight e-ticket/boarding pass

How to redeem LinkMiles?
Redemption to Citilink flights and products from merchant can be done through the Citilink application. Stay tuned for LinkMiles redeem for other merchants!
REGISTRATION STEPS FOR LINKMILES
1. Open the Citilink mobile application, Click "Account".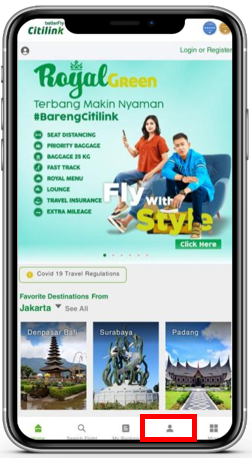 2. Click "Register Here"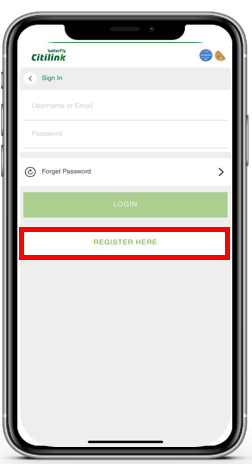 3. Enter your full name, date of birth, gender, area code and phone number.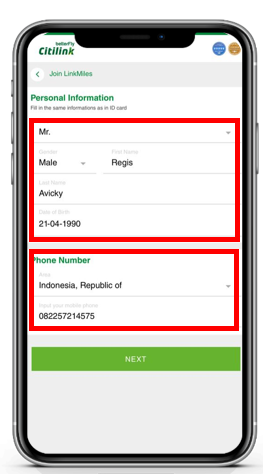 4. Enter your email address, then create a password to register and create an account.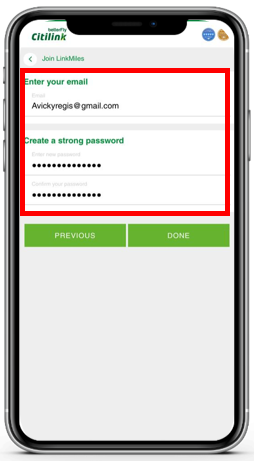 5. After completing the registration, you will get a "Registration is Successful" notification and then you can click the "Done" button.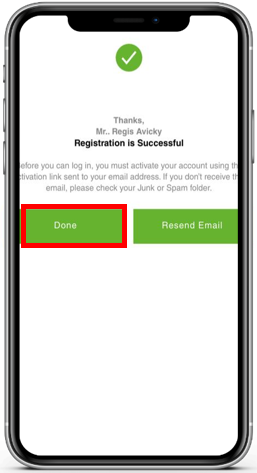 6. After data is successfully submitted, you will receive an activation email.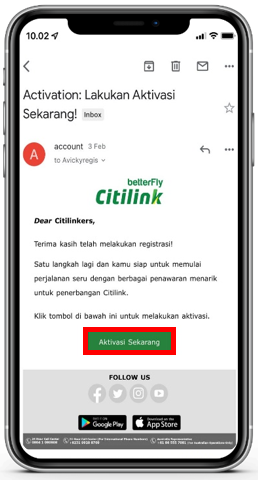 7. After successful registration, you will get a direction to "Log In".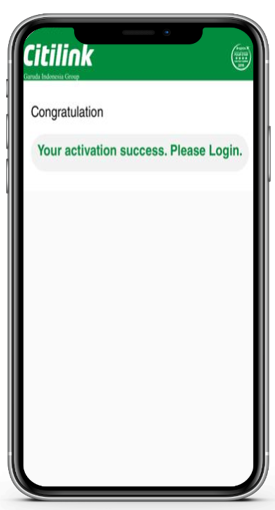 8. After After successfully Log In, you will get an email notification and special offers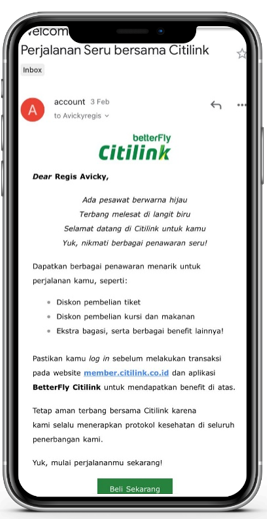 9. You can open the Citilink application and have successfully registered as a LinkMiles member and you will get "Bonus 200 LinkMiles Mileage!"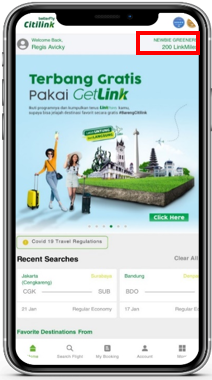 10. Appearance on the LinkMiles Account and you can see membership number on display in the Application