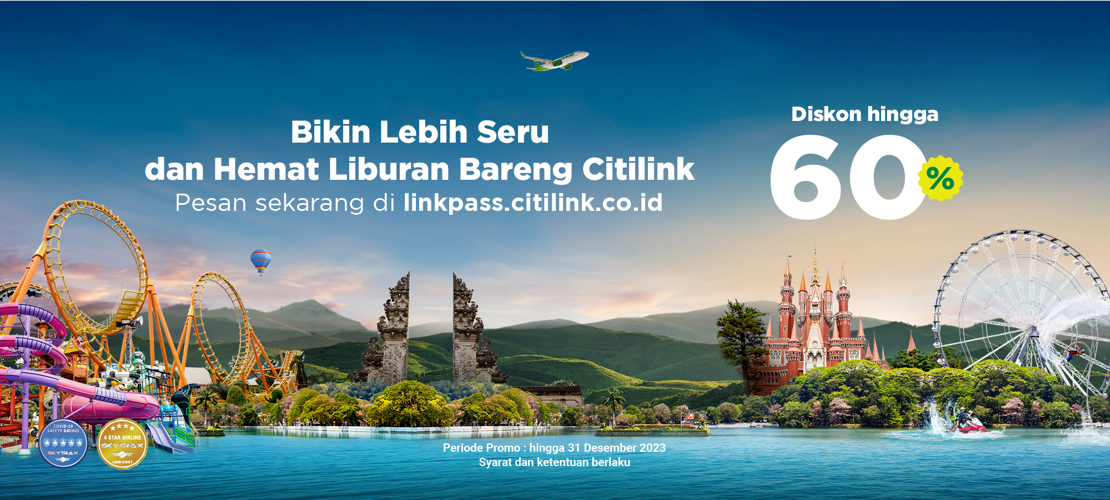 #BikinLebih (Make it more) Explore the beauty of the archipelago and abroad with LinkPass, a tour package platform by Citilink. Let's have fun together in various destinations with Citilink by enjoying delightful tours, thrilling amusement park attractions, and enjoyable holiday packages from LinkPass. Experience various benefits and special offers from LinkPass, such as a discount promotion of up to 60% until December 31, 2023. Come on, book your tickets now and fulfill your desire to explore the beauty of various cities in Indonesia and abroad with LinkPass.
Popular Experiences
4WD Jeep Mount Batur Sunrise Experience by Bali Volcano Jeep

Bali is an island full of surprises for adventure seekers like you. It's undeniable that no visit here is complete without watching the breathtaking sunrise at Mount Batur or the caldera.


Amanzi Waterpark Palembang

Explore the beautiful Garuda Wisnu Kencana (GWK) Cultural Park, home to the stunning GWK statue! Wander through the massive garden and marvel at the beauty of one of Bali's most popular cultural icons.


Bebek Bengil Restaurant Ubud Bali

Bebek Bengil was the pioneer in the industry which introduced the famous Original Crispy Duck in 1990. We serve a selection of Balinese, Indonesian, Asian as well as Western cuisines combined with high quality service.

The story of LinkPass from Citilink Indonesia
LinkPass is a tour package platform from Citilink Indonesia, where Citilink Indonesia is the best low-cost airline in Indonesia that can help Citilink passengers explore the beauty of tourism of curated destinations. Activities such as fun tours, thrilling theme park attractions, and unforgettable vacation packages in Indonesia and internationally with attractive promo offers with Citilink Indonesia.
LinkPass and Tourism Village Collaboration

LinkPass will also collaborate with the Ministry of Tourism and Creative Economy (KEMENPAREKRAF) in creating tour packages, attractions, and tours of Desa Wisata (a tourism village currated by Kemenparekraf) in Indonesia where passengers can experience the natural beauty and local culture of Desa Wisata with easy booking of its tickets through LinkPass platform.
Want to enjoy all these special offers?
Become a Member by registering here.
DOWNLOAD CITILINK APPLICATION:
#BetterFlyCitilink