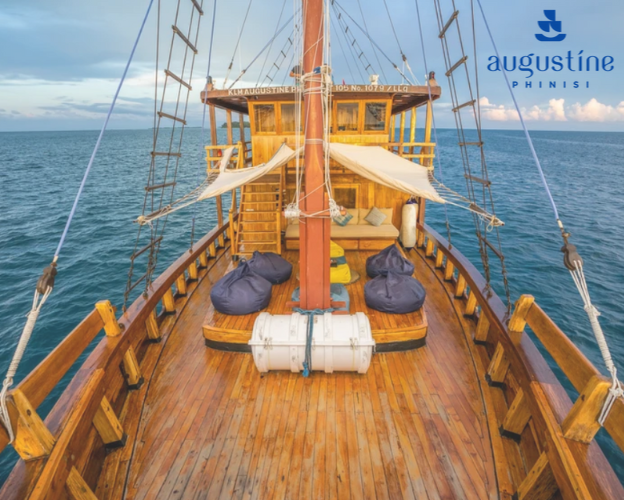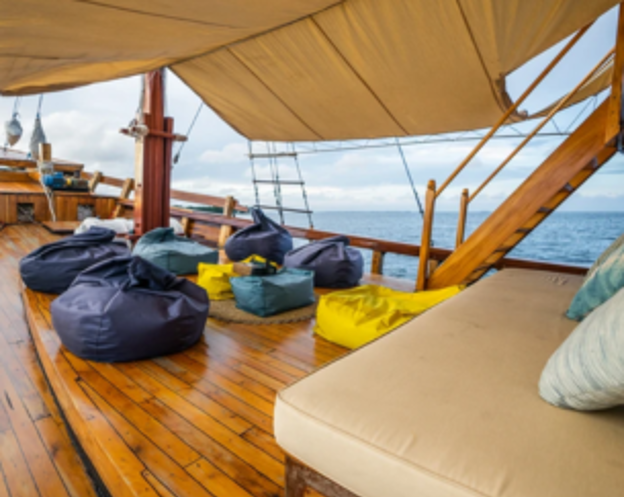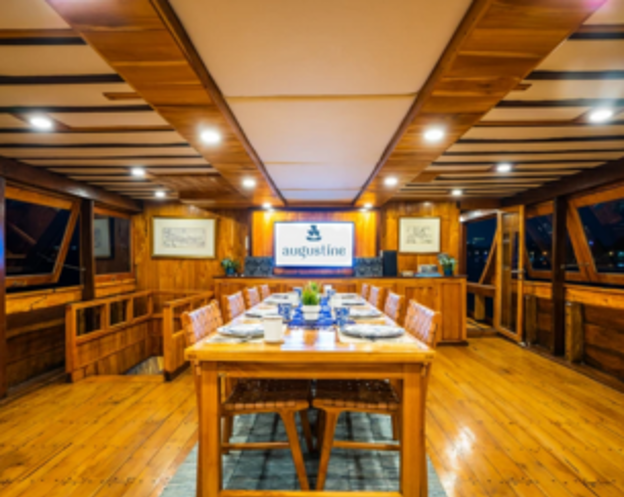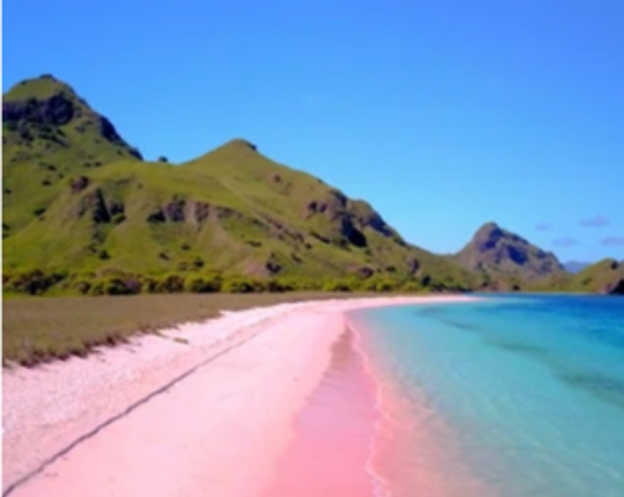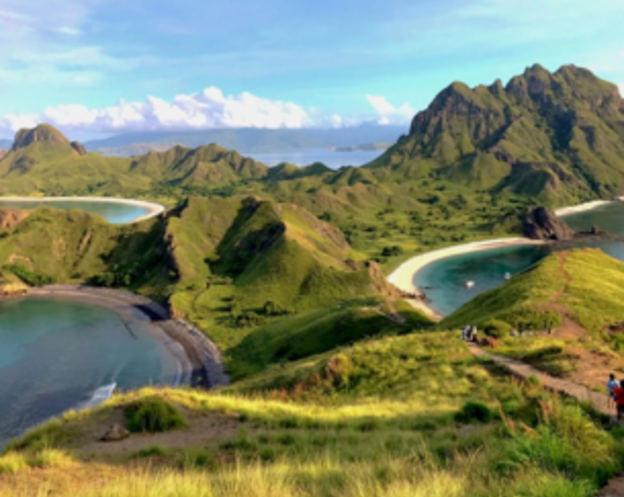 3D2N Labuan Bajo Sailing Trip with Augustine Phinisi (Jakarta - Labuan Bajo Return)
LABUAN BAJO SAILING TRIP WITH AUGUSTINE PHINISI
On the first day, after arriving at Labuan Bajo Airport, participants will be picked up and go straight to the Harbor to board the Augustine Phinisi boat, where breakfast or lunch (depending on arrival time) is waiting. After briefing the boat will start sailing to Taka Makassar and Manta Point, to do snorkeling in one of the best spots in Labuan Bajo. Participants can get up close to colorful coral reefs, as well as turtles, mantas, sharks, and other animals. After that, the boat will continue sailing to Pink Beach Padar, a unique beach with pink sand while enjoying the sunset. Participants can also go snorkeling, kayaking, stand-up paddle, or floating trampoline.
The second day will begin with a beautiful sunrise on Padar Island, an icon of Labuan Bajo. From the top of Padar Island, participants can see the beauty of Labuan Bajo and see 3 beaches with different colors of sand namely white, pink, and black on one island. After breakfast, the trip will continue to Rinca Island to see Komodo dragons and visit the museum. After seeing Komodo dragons in their natural habitat, participants will be taken to Strawberry Rock to see a unique pink hill and if they want, they can return to snorkeling. The second day of nature activities will be closed by seeing the beauty of bats flying out of their nests to find food with the background of the sunset. After dinner, participants can choose to watch a movie or karaoke using the screen in the front lounge of the ship.
On the third day, participants will be invited to visit Papagarang Island, the resident island that inspired the movie Avatar: Way of Water. On Papagarang Island, participants can visit the island's library, which is co-managed by Augustine Phinisi, and lead drawing, coloring, or English classes. Participants can also shop for salted fish for souvenirs. Before returning to Labuan Bajo, participants can choose to do snorkeling at Manjarite, or hiking at Kelor Island. Upon arrival in Labuan Bajo, participants will be escorted to the souvenir center for shopping before being transferred to Labuan Bajo Airport.
---
Package Includes:
Return Citilink flight tickets (CGK - LBJ - CGK).
Sailing with Augustine Phinisi for 3 days 2 nights.
Room with AC, en-suite bathroom, and hot water.
Three meals a day, freeflow snacks, freeflow drinks (water, tea, coffee, soda).
Indonesian/English speaking tour leader.
Documentation.
Snorkeling equipment and water toys (kayak, stand up paddle, floating trampoline).
Smart TV, karaoke, movie screen.
Transportation from airport to port and from port to airport.
---
Package Excludes:
Tips for crew.
National park entrance tickets.
---
Terms and Conditions:
The boat is rented on a private charter basis, minimum payment of 10 people (less than 10 people can still go by paying for 10 people).
The maximum boat capacity is for 15 people.
The minimum booking for 3D2N Labuan Bajo Sailing Trip with Augustine Phinisi is 2 people.
The LinkTrip programs are available for Indonesian citizens (WNI), KITAS holders, and during the low season.
Package requests follow the availability of Citilink Indonesia flight schedules.
Package prices are subject to change.
The package prices are not valid during high season periods (school holidays, national holidays, Christmas, and New Year holidays).
All payment or settlement processes for Linktrip packages will be handled by the package provider operator.
To request a refund for a Linktrip package, customers are expected to directly contact the package provider operator.
Terms and conditions regarding Citilink flight ticket refunds are regulated in PM No. 30 of 2021.
Cancellation fees will be charged as follows:
15 days before the departure date will be charged 30% of the package price (Outside of airfare).
08 days before the departure date will be charged 40% of the package price (Outside of airfare).
04 days before the departure date will be charged 100% of the package price (Outside of airfare).
The LinkTrip programs may change depending on the conditions and situations during the journey.
PT. Citilink Indonesia is not responsible for accidents, loss of goods, excess baggage, detention at airports or hotels, quarantine costs, delays/disruptions in schedules, aircraft or other transportation, or due to strikes, force majeure, implementation of government regulations and policies, and other factors beyond PT. Citilink Indonesia's control.
Other matters will be regulated according to the policies and regulations of domestic and international flights applicable at PT. Citilink Indonesia:
PT. Citilink Indonesia collaborates with Augustine Phinisi operator to facilitate the creation of the "3D2N Labuan Bajo Sailing Trip with Augustine Phinisi".
The package schedule is not binding (subject to change at any time) and can be adjusted according to customer needs; the written itinerary may change at any time and adapt to the situation and conditions on the ground.
---
Starting from
IDR 12.277.100/pax
---
Features
Return Citilink Flight Tickets
Sailing with Augustine Phinisi
Room with Air Conditioning, En suite Bathroom and Hot Water
3 x Meals / Day
Freeflow Snacks and Drinks
Tour Leader
Documentation
Snorkeling Equipment and Water Toys
Smart TV, Karaoke, and Screen Capture
Transportation
Itinerary
Labuan Bajo Sailing Trip with Augustine Phinisi
Arrive at Labuan Bajo
Komodo International Airport (Labuan Bajo)
Boarding to Augustine Phinisi Boat
Harbor
Snorkeling with Mantas and Playing on The Beach
Manta Point/Taka Makassar
Sunset at The Beach with Pink Sand
Pink Beach Padar
Hiking while Watching the Sunrise
Padar Island
Seeing the Komodo Dragon
Rinca Island
Hiking at Pink Rock Hill and Snorkeling
Strawberry Rock
Sunset Viewing with Bats
Kalong Island
Meet the Tribe that Inspired the Movie Avatar: The Way of Water
Papagarang Island
Snorkeling or Hiking
Manjarite or Kelor Island
Disembarking from the Augustine Phinisi
Harbor
Shop for Labuan Bajo Souvenirs
Souvenir shop
Transfer to Komodo International Airport (Labuan Bajo)
Return Flight