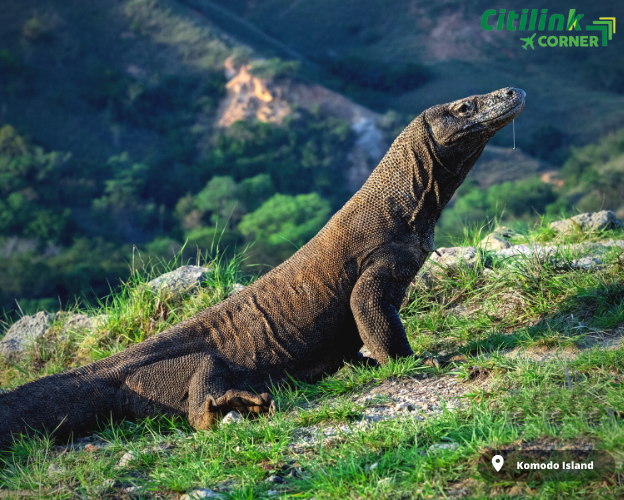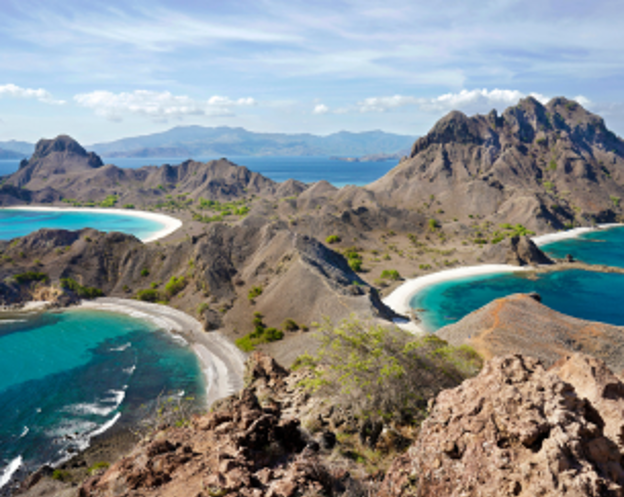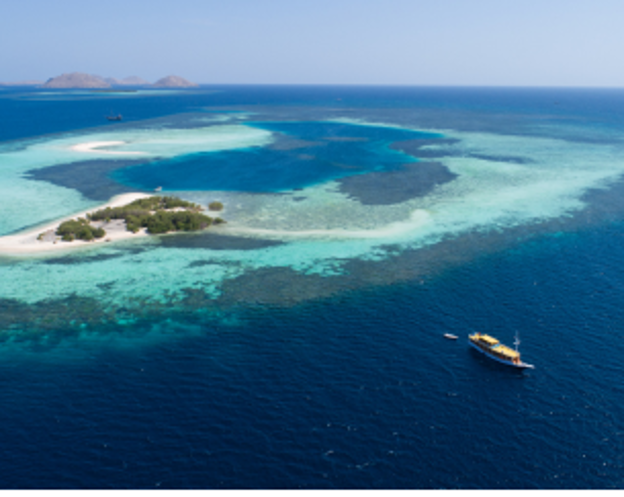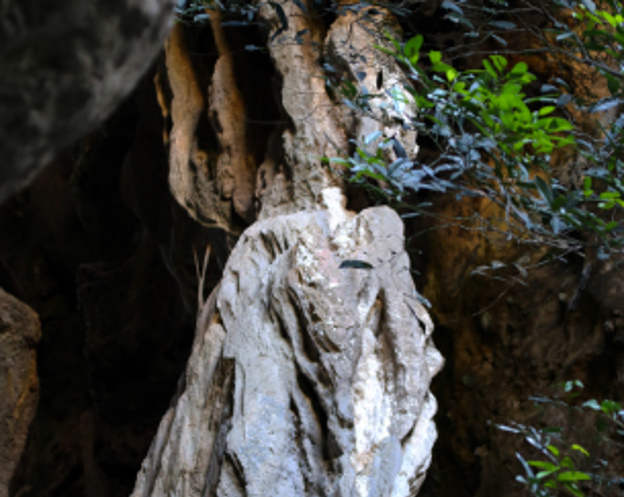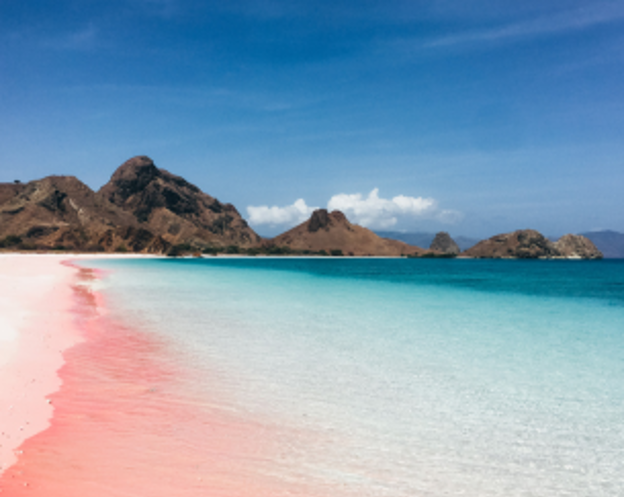 4D3N Explore Komodo - Citilink Corner (Denpasar - Labuan Bajo Return)
4 DAYS 3 NIGHTS EXPLORE KOMODO PACKAGE
DAY 1: LABUAN BAJO - MIRROR STONE-HOTEL (MM)
After arriving at Komodo International Airport, Labuan Bajo, participants are picked up and transferred to Mirror Stone Cave which is famous for its beautiful stalactites and stalagmites. After that, participants will be escorted back to the hotel for check-in. Dinner will be served at a local restaurant.
(Note: If participants arrive before lunch, participants can visit a local restaurant first before heading to Mirror Stone Cave. However, the cost of lunch is not included in the price of this package).
DAY 2: HOTEL - PADAR ISLAND - LONG PINK BEACH - KOMODO ISLAND -TAKA MAKASSAR - MANTA POINT - KANAWA ISLAND - HOTEL BY SHARED SPEED BOAT (MP,MS)
After participants have breakfast or receive a boxed meal, they will be picked up at the hotel lobby and taken to the Komodo port by car. After that, cross to Padar Island, while enjoying the morning sun and beautiful views of several islands along the way. Upon arrival at Padar Island, participants immediately trekked to the top of Padar, which is considered the best tourism icon in Labuan Bajo. After enjoying the breathtaking views from the top, participants will return to the speedboat and continue the journey to Long Pink Beach to take photos on the unique pink-colored sand beach. Then, participants will cross back to Loh Liang on Komodo Island. Upon arrival at Komodo Island, participants will take a short trek and walk through the forest to see the Komodo dragons up close. In addition, participants may also encounter other wildlife such as deer, wild boars, various species of tropical birds, and small Komodo dragons found in the trees. A Komodo ranger will accompany you to ensure the preservation of nature throughout the trip. A lunch box will be provided on the boat before continuing the journey to Karang Makassar and Manta Point to observe the beautiful Manta rays up close. Afterward, the journey will continue to Kanawa Island for snorkeling or relaxing on the beach. Once finished, participants will return to Labuan Bajo, and upon arrival, they will be driven back to the hotel by car.
DAY 3: HOTEL-CUNCA WULANG WATERFALL - MELO VILLAGE- WEAVING HOUSE-HOTEL (MP, MS)
After breakfast, participants will be picked up and escorted to Cunca Wulang Waterfall in Wersawe village. Arriving at Wersawe, participants will walk to the waterfall. At the waterfall participants can swim. However, swimming here is recommended only for young people who are good at swimming because of the deep pool and have to jump from a height. After that, participants will return to the bus/car and continue the journey to Cecer or Melo Village. Arriving at the village, participants can take pictures while seeing the life of rural communities. After that, participants returned to the hotel in Labuan Bajo. But before heading to the hotel, participants will stop first at the Weaving House in Nggorang (closed on Saturday and Sunday) to see the process of weaving traditional Flores cloth. Then, participants will have dinner at a local restaurant and spend the night at a hotel.
DAY 4: LABUAN BAJO- KOMODO AIRPORT- SAYONARA (MP).
On the last day, after enjoying breakfast at the hotel, then check out. Participants will be escorted to shop for souvenirs at Exotic before being transferred to Komodo Airport.
(Notes: If you do not have time to buy souvenirs on this last day, you can buy souvenirs after the third-day dinner).
---
Hotel Packages:
Price per person in rupiah
Validity: 01 May - 20 Desember 2023
| | | | | |
| --- | --- | --- | --- | --- |
| HOTEL | BOAT | MIN. 2 PAX | MIN. 4 PAX | MIN. 7-8 PAX |
| | Sharing Speed Boat | 5.810.000 | 5.205.000 | 4.500.000 |
| LUWANSA / SYLVIA HOTEL | Sharing Speed Boat | 5.610.000 | 4.800.000 | 4.295.000 |
Note: Prices are valid until 20 December 2023 & prices may change at any time.
---
Package Includes:
Return Citilink flight tickets (DPS - LBJ - DPS).
3-night accommodation at selected hotel base on twin share.
Transfer in / out.
One day tour to Komodo National Park by fast boat (sharing) (*include lunch).
1 x City Tour to Batu Cermin Cave / Waringin Peak / Amelia Hill / Sunset Point (*exclude lunch).
Mineral water during tour and transfer.
Soft drink + snack.
Ranger fee.
Hotel pick-up and drop-off service.
Admission tickets to tourist attractions.
Komodo ranger and guide fees.
Breakfast.
Snorkeling gear.
Tour Guide speaking Indonesian / English.
---
Package Excludes:
Tipping for Fast Boat Crew and Driver.
Dinner.
---
Terms and Conditions:
The minimum booking for the 4 Days 3 Nights Explore Komodo package is 2 people.
The LinkTrip programs are available for Indonesian citizens (WNI), KITAS holders, and during the low season.
Package requests follow the availability of Citilink Indonesia flight schedules.
Package prices are subject to change.
The package prices are not valid during high season periods (school holidays, national holidays, Christmas, and New Year holidays).
All payment or settlement processes for Linktrip packages will be handled by the package provider operator.
To request a refund for a Linktrip package, customers are expected to directly contact the package provider operator.
Terms and conditions regarding Citilink flight ticket refunds are regulated in PM No. 30 of 2021.
Cancellation fees will be charged as follows:

15 days before the departure date will be charged 30% of the package price (Outside of airfare).
08 days before the departure date will be charged 40% of the package price (Outside of airfare).
04 days before the departure date will be charged 100% of the package price (Outside of airfare).

The LinkTrip programs may change depending on the conditions and situations during the journey.
PT. Citilink Indonesia is not responsible for accidents, loss of goods, excess baggage, detention at airports or hotels, quarantine costs, delays/disruptions in schedules, aircraft or other transportation, or due to strikes, force majeure, implementation of government regulations and policies, and other factors beyond PT. Citilink Indonesia's control.
Other matters will be regulated according to the policies and regulations of domestic and international flights applicable at PT. Citilink Indonesia:
PT. Citilink Indonesia collaborates with Citilink Corner Bali Nusra operator to facilitate the creation of the "4 Days 3 Nights Explore Komodo" package.
The package schedule is not binding (subject to change at any time) and can be adjusted according to customer needs; the written itinerary may change at any time and adapt to the situation and conditions on the ground.
---
Starting from
IDR 5.595.520/pax
---
Features
Return Flight ticket
3 Night Accommodation at Selected Hotel
Transportation
Hotel Pick-Up and Drop-Off Service
Entrance Ticket
Tour Guide and Ranger
Snack and Soft Drink
Mineral Water/ Day
Snorkeling Gear
Komodo Ranger and Guide Fees
Itinerary
Explore Komodo
Arrive at Komodo Airport, Labuan Baju
Participant Pick-Up
Visit Mirror Stone Cave
Mirror Stone Cave
Journey to the Hotel
Check-In + Rest
Breakfast
Hotel Jayakarta/ Hotel La Prima/ Hotel Luwansa/ Hotel Sylvia
Visit Padar Island
Trekking to Padar Peak
Visit Long Pink Beach
Take a Picture at Pink Beach
Visit Komodo Island
Short trekking + Komodo Dragon and Other Wildlife Viewing
Visit Karang Makassar
See Manta Fish or Rays
Visit Manta Point
See Manta Fish or Rays
Visit Kanawa Island
Snorkeling or Relaxing at the Beach
Journey Back to the Hotel
Hotel Jayakarta/ Hotel La Prima/ Hotel Luwansa/ Hotel Sylvia
Breakfast
Hotel Jayakarta/ Hotel La Prima/ Hotel Luwansa/ Hotel Sylvia
Visit Cunca Wulang Waterfall
Swim at Cunca Wulang Waterfall
Visit Melo Village
Photo Stop + Seeing the Life of Rural People
Visit the Weaving House
See the Weaving Process of Flores Traditional Fabric
Journey Back to The Hotel
Hotel Jayakarta/ Hotel La Prima/ Hotel Luwansa/ Hotel Sylvia
Breakfast
Hotel Jayakarta/ Hotel La Prima/ Hotel Luwansa/ Hotel Sylvia
Check-Out Hotel
Hotel Jayakarta/ Hotel La Prima/ Hotel Luwansa/ Hotel Sylvia
Visit Exotic
Shopping for Labuan Bajo's Specialty Products
Transfer to Komodo International Airport
Flight Back to Denpasar