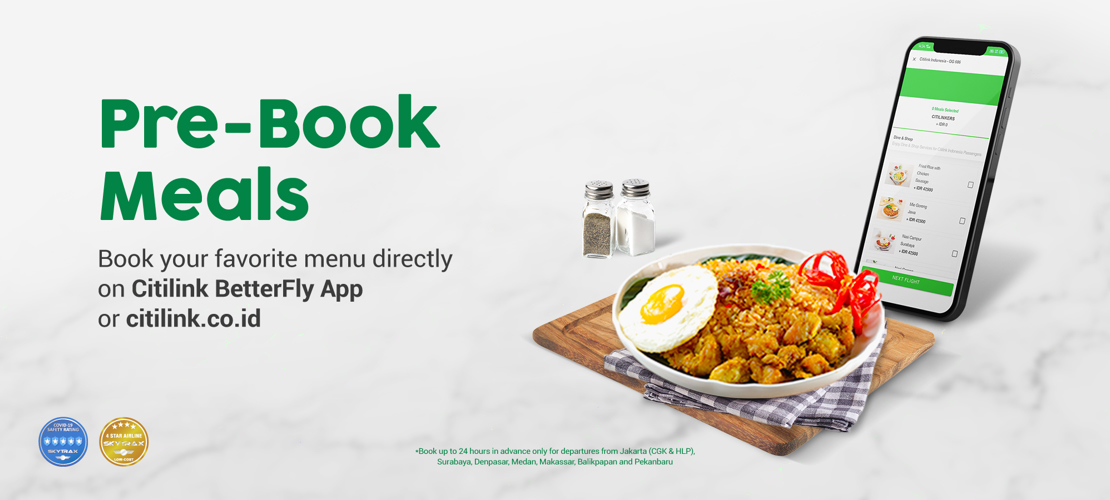 Special Fried Rice
Nusantara spiced fried rice served with sunny side up and fried chicken.

IDR 50,000 (Mineral Water included)

Yellow Rice with Habang Beef Stew
Special yellow rice served with sweet marinated red chili Habang style meat, sauteed beans and tempeh, chopped chili, and fried shallots.

IDR 50,000 (Mineral Water included)

Citilink Rendang Rice
White rice served with beef rendang, jackfruit stewed with coconut milk, chili, and fried shallots.

IDR 50,000 (Mineral Water included)

Javanese Fried Noodles
Javanese fried noodle with fried egg, sauteed carrot, chai sim, and fried shallots.

IDR 50,000 (Mineral Water included)

Lime Leaves Rice
Rice cooked with lime leaves, served with fried chicken, completed with sauteed beans, tofu, and chili.

IDR 50,000 (Mineral Water included)

Betutu Chicken Rice
Balinese dish of white rice with betutu flavoured chicken that comes with boiled egg, sauteed long-beans, and peanuts with spiced toasted coconut.

IDR 50,000 (Mineral Water included)
Omelette Sausage
Omelette with beef sausage served with suateed mixed vegetables.

IDR 50,000 (Mineral Water included)

Spaghetti Carbonara
Spaghetti carbonara served with sliced smoked beef and parmesan cheese.

IDR 50,000 (Mineral Water included)

Beef Sandwich
A sandwich bread with smoked beef and sliced cheese.

IDR 35,000
Fried Rice with Dino Nugget
Special fried rice served with dino nugget, mix vegetables, and sliced egg omelette.

Rp. 50,000 (harga termasuk Air Mineral)
Caesar Salad
Variety of fresh vegetables with thousand island dressing.

IDR 40,000

Vegetarian Lasagna
Vegetarian lasagna with tomato sauce and parsley.

IDR 50,000 (Mineral Water included)
Pre-Book Meals (PBM) service is a food ordering service, for ordering tickets please visit the website www.citilink.co.id.
Terms and Conditions:
Bookings through Pre-Book Meals (PBM) can be served no later than 24 hours before flight hours, together with ticket reservations.
The type of PBM ordered will be listed on the customer's boarding pass and can be claimed to our cabin crew during the flight, according to the departure route from CGK, HLP, SUB, DPS, KNO, UPG, BPN and PKU airports.
Orders that have been placed can be exchanged with another menu item of the same value, if the order is damaged or something else that has caused the order to be not fit for consumption.
Food ordered cannot be canceled, transferred, or exchanged after placing an order.
Everything / force majeure outside the ability of PT. Citilink Indonesia, which causes food not to be accepted by passengers, then Citilink is not obliged for the replacement.
The reimbursement of the PBM order fee will be returned if a unilateral flight cancellation occurs by Citilink.
Order cancellations cannot be made, if there is a change in schedule at the request of the passenger (re-schedule or pax no show).​​