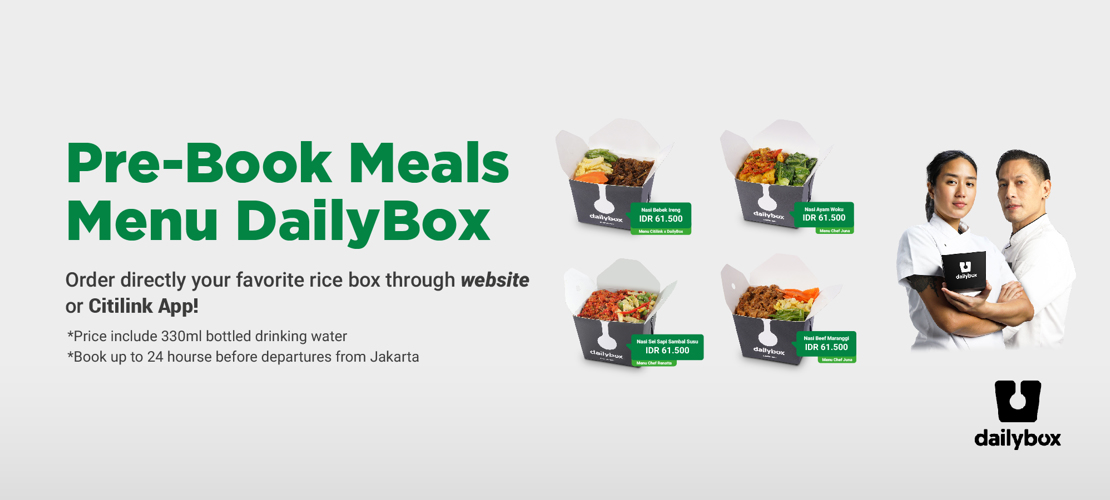 Terms & Conditions:

Reservations through Pre-Book Meals (PBM) can be served no later than 24 hours before the scheduled departure time.
The type of PBM booked will be listed on the passenger's boarding pass and can be claimed to the Cabin Crew on duty.
The food that has been ordered can be exchanged for another menu worth, if the order is damaged or other things that cause the food to be unfit for consumption.
Food ordered cannot be canceled, transferred, or exchanged after placing an order.
Everything / force majeure is beyond the ability of PT Citilink Indonesia, which causes food not to be accepted by passengers, then Citilink is not obliged to the replacement.
Reimbursement for the purchase of Pre-Book Meals will be refunded, in the event of a cancellation made by Citilink.
Cancellation of the order cannot be made, if a schedule change is made at the request of the passenger (re-schedule or no-show passenger).
The Price shown include tax (VAT).